Acrylic, which is commonly referred to as Plexiglass, gives a glossy finish to your images. This type of frame is also very light, allowing you to hang large frames on your walls.

Pictures with a glossy finish that make you feel like you're there!
Photos printed on acrylic are out of the ordinary for several reasons. First, the luster of acrylic gives colors shine. Then, since we print under the acrylic, it adds an interesting 3D effect. This, also allows you to clean your frame without fear of damaging the print. This kind of printing has long been reserved for art galleries. In recent years, prices have become more affordable and this type of frame is becoming more and more popular in residential decoration.
UV printing on Plexiglass
Our high-definition printers allow us to create masterpieces from our clients' images. Behind the different layers of ink, we add a second layer of ink to make the print opaque. So your colors will come out better than ever.
Acrylic cutting
After printing your photos on our presses, we move on to the cutting department. Indeed, we use digital cutting, called CNC, to cut the acrylic to the desired format. It is also at this stage that we will cut the holes to install the girt anchors (or "stand off"). In order to keep the corners of the frame from being too sharp, we round everything to a 1/8 inch radius.
Printed acrylic frame finishing
Our finishing department will take care of installing the attachment system to your frame (if necessary).
At the shipping stage, we'll make sure to include what you need to install your frame.
For the positioning frame, it will be glued behind the acrylic. You will therefore only have to install your screws on the wall.
For the sets of girts (Stand-Off) or screw covers, they will come in the box so that you can install them on the wall.
Easy frame installation options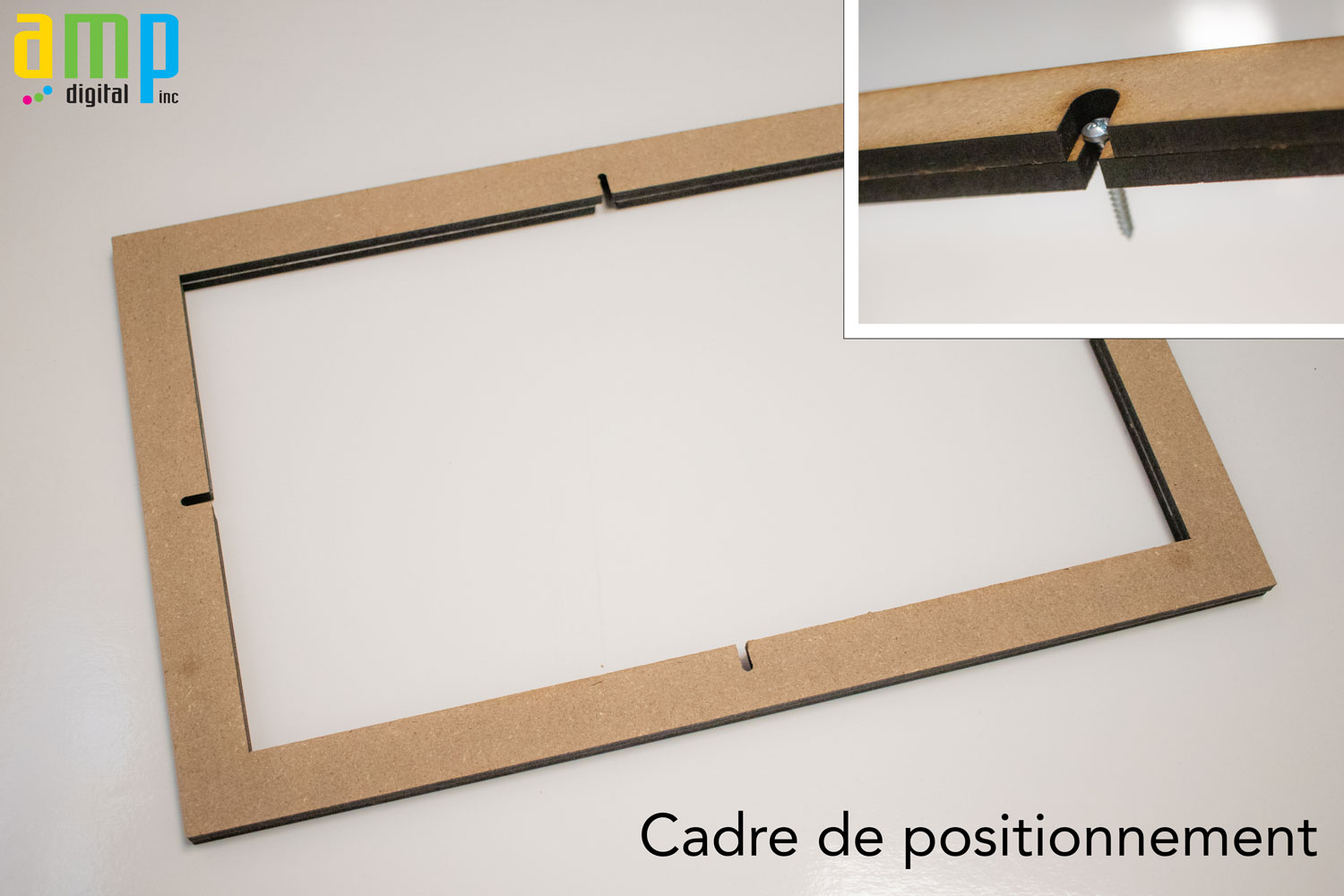 Hidden frame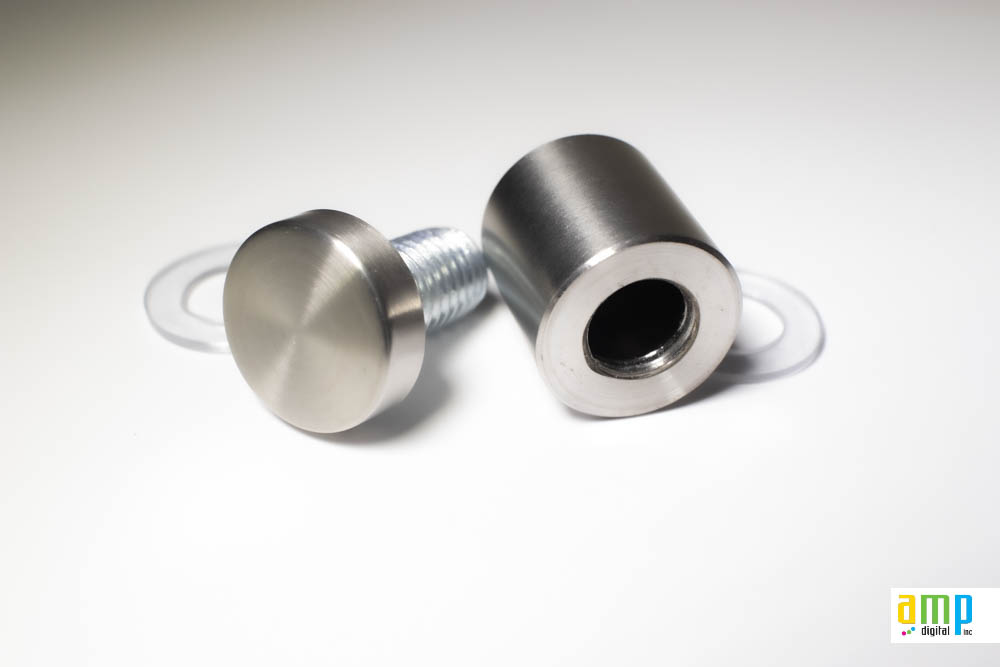 Stand Off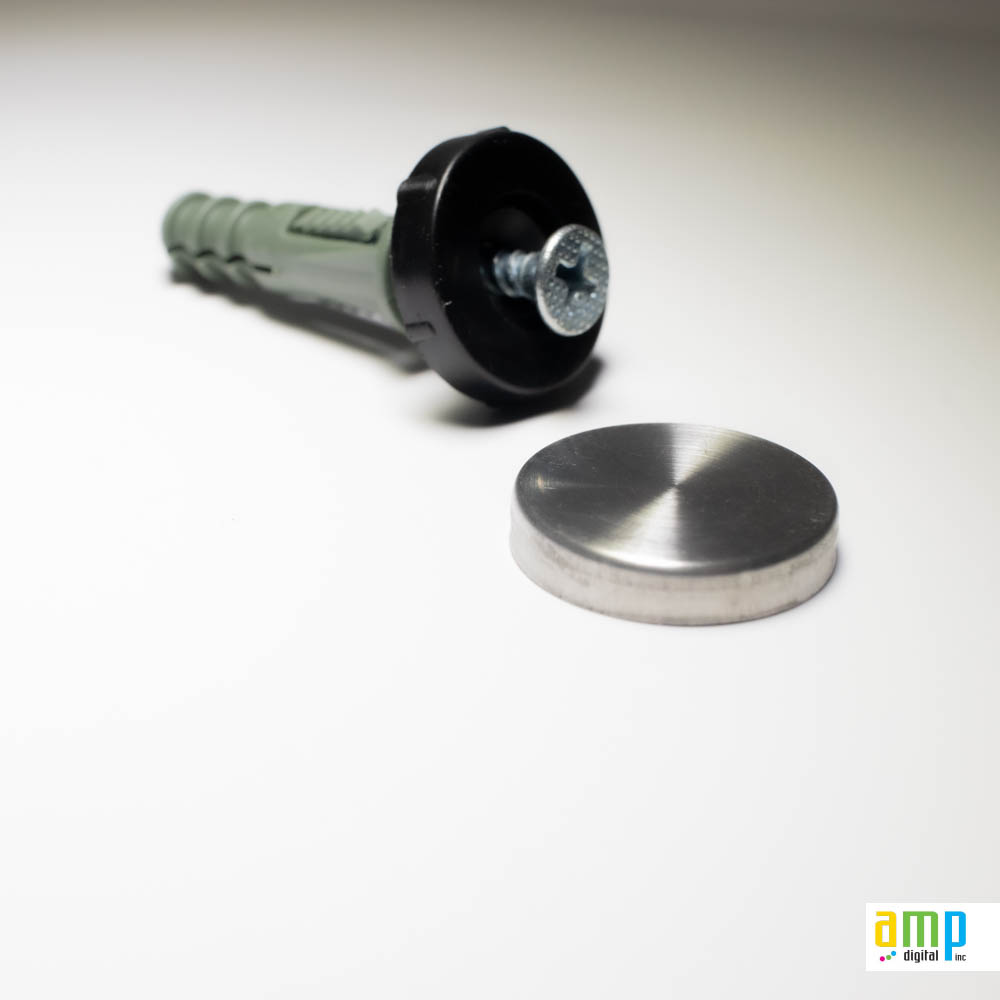 Screw covers
Acrylic size
Depending on what you want to do as a frame, we have different options. This includes the different possible dimensions. Available for sale online, we have different formats that can be shipped at affordable prices. If you want to print larger than 48 inches, there is no problem on our side but you will have to plan for higher delivery costs if you cannot pick it up. Our standard sheets measure 96 inches by 48.
Acrylic thickness
In many projects, our customers opt for 1/8 or ¼ inch acrylic. Although 1/8 is very affordable, it quickly becomes preferable to use 1/4 when making large prints. When the surface is too large, the material tends to lose its rigidity, which will cause material deformation. To counter this deformation, it is possible to add more support such as girts for example. On special order, we can have different thickness options such as ½ or even 1 inch.
Acrylic colors
We normally print under acrylic, so this should be transparent! For some special projects, we use translucent colored acrylic. *This will of course mislead the colors of the print!
There are also acrylics in different opaque colors. We must of course not print over it since we cannot see through!
Note that these options quickly increase the cost of projects as well as delays.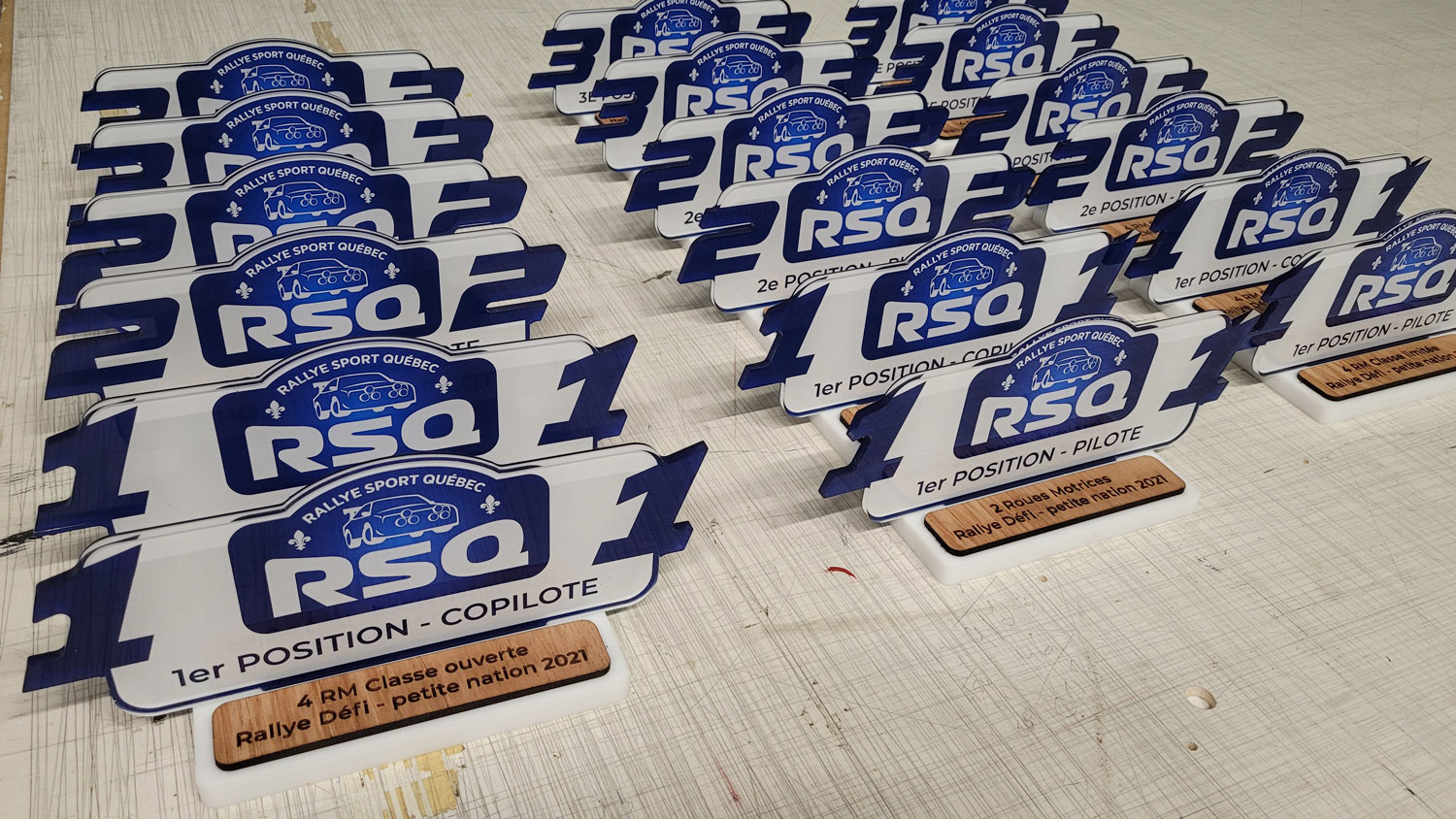 Trophies printed on acrylic
Frame installed with screw covers
What is the lifespan of an acrylic print?
Since the print is made behind the material, it will be protected from scratches. The UV anchor will also allow you to enjoy your visuals for several years!
How to clean an acrylic frame?
If you need to clean your printed acrylic, you can do so with a cloth and soapy water. Be careful that your laundry is clean and soft so as not to scratch the acrylic. A microfiber towel is perfect for this kind of use!
How can I save on a printed acrylic order?
Our acrylic sheets normally come in 48 X 96 sizes. The price of the material will therefore be calculated accordingly to the number of sheets we use. When it is possible to play with print formats, we can optimize the material and thus save big!
For example, if you want to print 2 images of 50 X 48, we will have to take 2 sheets… For a difference of a few inches, we can make 2 items of 48 X 48 in the same sheet which will take half the material!
Afterwards, if you are able to combine your orders, we can amortize our production costs on all the prints rather than charging them to you each time.
How to find high resolution images to print?
Our home decor product website has hundreds of images you can use. If you wish to have images that are not there, contact us and we will make you proposals!
Consult our gallery of images : https://lemuraliste.com/en/
What is the maximum size to print an image on acrylic?
Depending on the acrylic thickness, we normally have 48 X 96 sheets but it is possible to make special orders for larger sheets.
Do you want to have your own photos printed?