It is always impressive to see a window dressed to the colors of a company. There are several things to think about before having this type of vinyl installed in your windows. Regardless of the situation, we often end up using perforated vinyl for window decals. In this paper, we will explain the pros and cons of this type of product as well as the other options available. You will therefore be informed before starting your next showcase project.
The advantages of perforated vinyl
It allows you to see outside
The main advantage of this vinyl is that you can see through it when you are inside the building (or car). It's also nice to have light entering a room or office. (see figure bellow)
You can keep some privacy
Ceci peut donc nous laisser une certaine intimité à l'intérieur alors que les passants extérieurs voient un affichage imprimé.
In this example, you have an exterior view on the left and an interior view on the right. The difference in visibility between the two shots (from the same window) is impressive!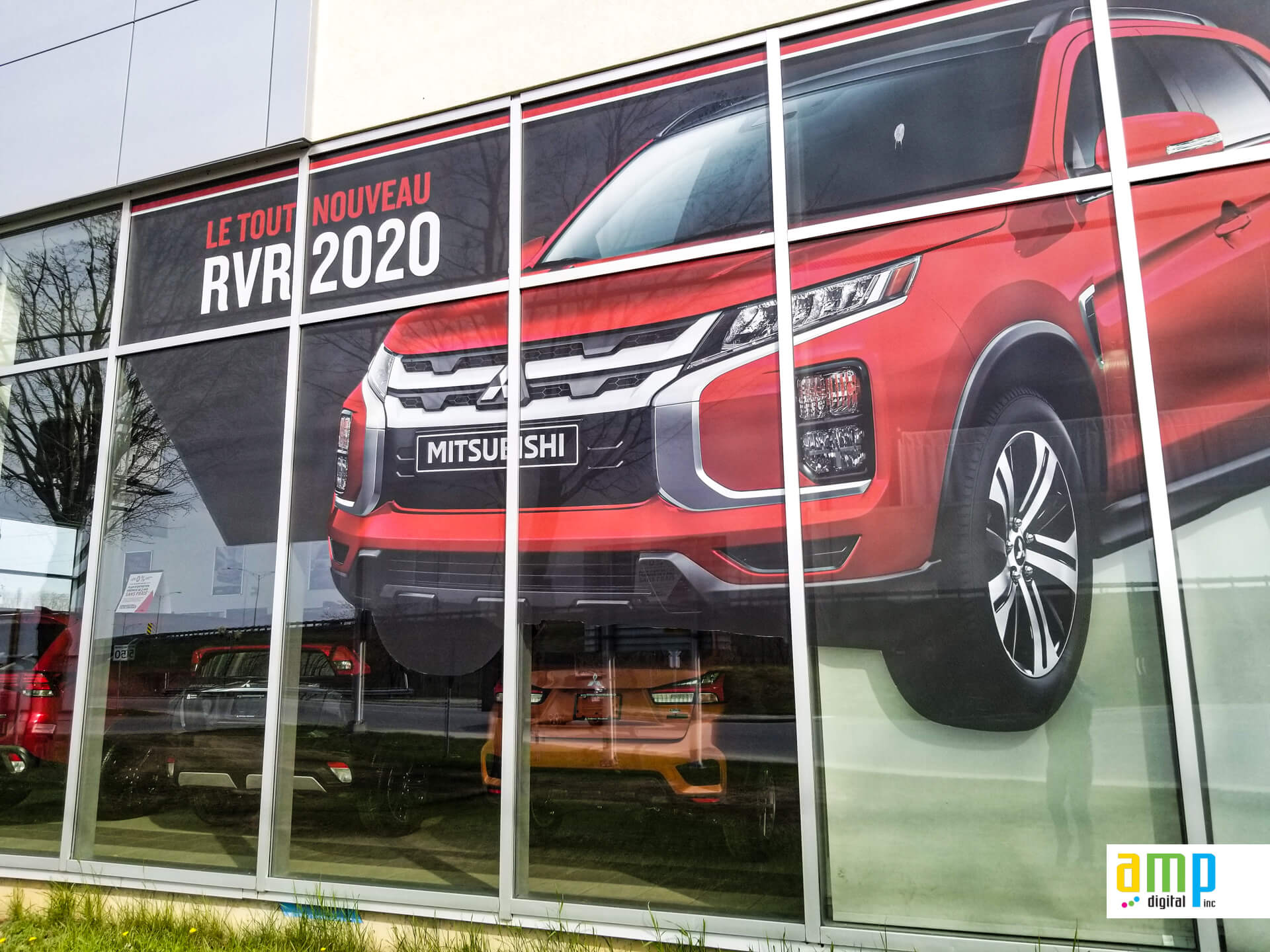 Safe option for your windows
Too much temperature contrast can also be bad for windows. For example, if you install a 100% opaque and dark vinyl, in a window and the sun hits hard on a hot summer day, the window could shatter due to the temperature difference being too important. This is therefore one of the reasons why we use this material so that the holes allow the heat of the sun to pass through.
Weather resistant
This vinyl is waterproof and resistant to bad weather in both summer and winter.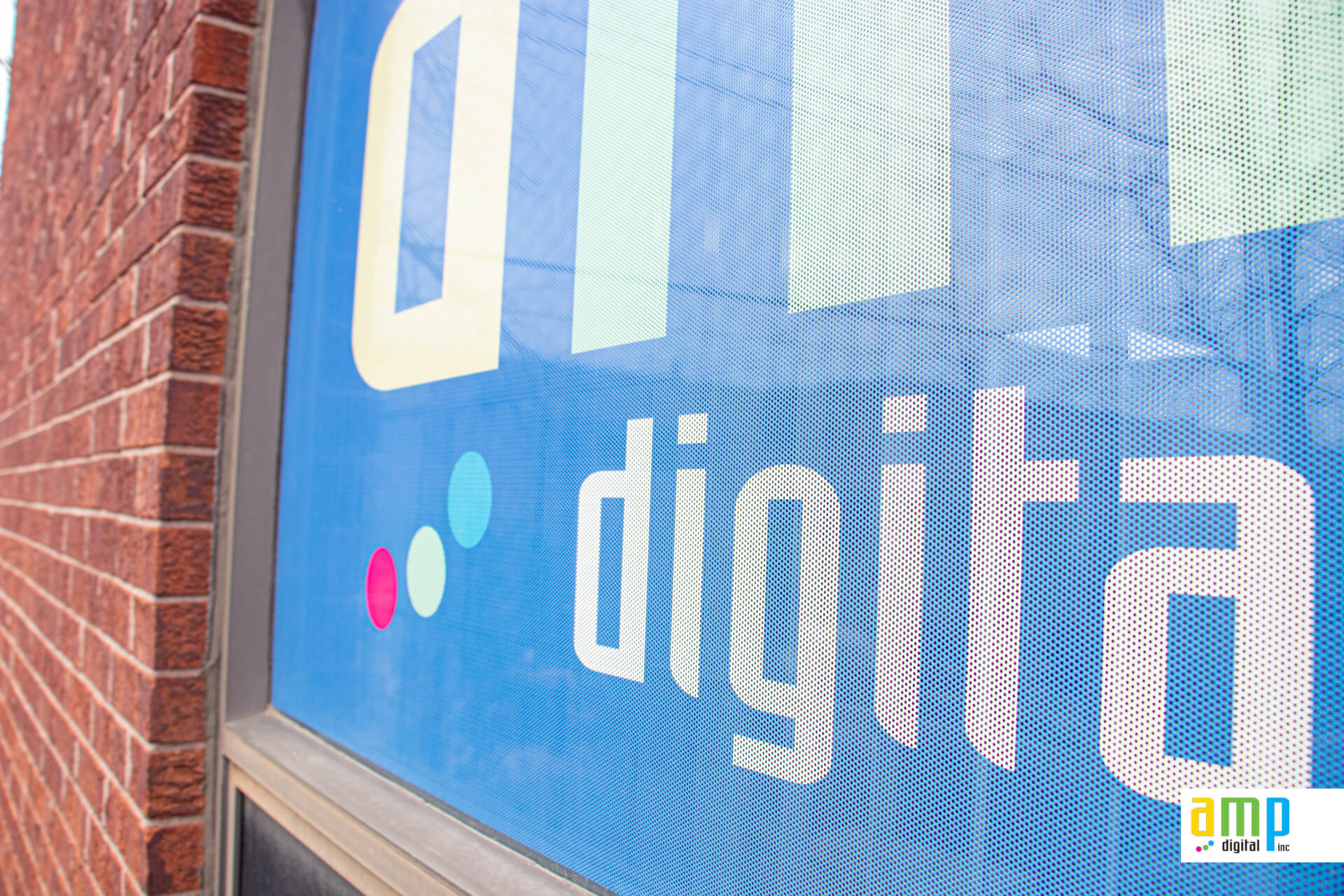 Lifespan of perforated vinyl
Depending on the type of vinyl you choose, the lifespan will vary. There are also other factors that come into play such as the quality of the installation and the type of maintenance you do… On average, this type of product has a lifespan of between 3 and 7 years. For some materials, it can even be up to 10 years. We're talking about the glue that holds after all these years. As for the print, after a few years of dealing with the elements in Quebec, the print will slowly lose its shine.
However, since we print the perforated vinyl on our UV printers, the ink has a better lifespan than other type of printers.
For your information, this vinyl was installed in our exterior windows about 5 years ago. There are still no signs of wear or peeling.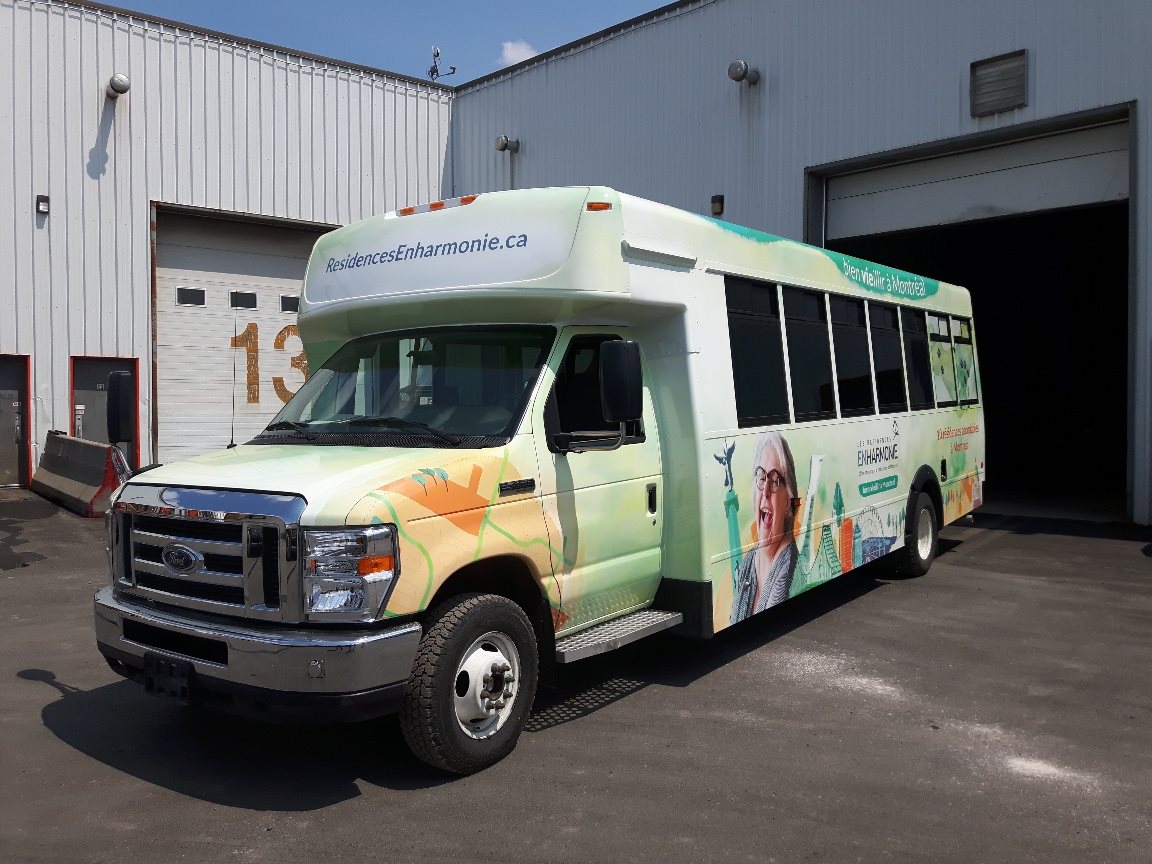 Where can perforated vinyl be installed?
The usefulness of perforated vinyl is that it can be seen through so it must, of course, be installed on glass. Here are some examples of use:
A store window

Glass door

Voiture et autobus (sans obstruer la vue du conducteur)
What to know before installing lettering in a window
First, do you have the right? Several municipalities or building owners have fairly strict rules on this subject. For example, you may be required to install this film from the inside out, which can increase the cost of the project.
Second, you should know that even if the equipment has holes, the brightness of the room will be limited. This can be a good thing for a room that is too bright. Be advise, it will still be possible to see inside.
Different Perforated Window Vinyl Options
Print specifications
We can print anything you want in CMYK colors. Whether it is photos or simply vector logos, we can print everything without problem.
Cutting options
Of course, we can cut the material to the necessary dimensions. However, it is also possible to cut special shapes with 3D cutting thanks to our CNC machine. All we need is a vector shape to be able to do this. It's quite rare that we see die-cut perforated vinyl so when our customers choose this option, their showcase stands out!
The different glue options
Depending on your restrictions and how you will use it, we will suggest different glue options for you. The most affordable option is to install from the outside. We will therefore have previously printed the vinyl and the back of the vinyl is self-adhesive.
If you need to have your display case installed from the inside, you will first need to print the material and then apply glue on top of the print. Depending on the glass, you may lose some color saturation when working from the inside.
Visibility options
There are different variations in the distribution of holes and the printable area. Some products offer a printable area of ​​70% and 30% holes which is standard.
There are up to 80% – 20% and the other way around 50% – 50%.
For use on a car, it is suggested to go maximum with a 60% (print) – 40% (hole).
Day and night perforated vinyl option
A new type of perforated vinyl that is reflective has been around for some time. That is, light reflects on contact with this vinyl. This can be a good option in certain situations such as a storefront business or even a car.
Technical specifications for Perforated Window Vinyl
As for the dimensions of the material, normally the rolls are 54 inches wide. Even if your showcase is larger, we can make seals without any problem.
This material has a matte finish, which helps prevent glare.
Other options for your windows
For several unique reasons, perforated vinyl may not be the best option. We have several other options to suggest to you for your windows.
Translucent or transparent vinyl
Depending on what you want as a result, a translucent option will let in diffused light while a clear vinyl will allow you to see through.
Opaque vinyl
As discussed earlier, vinyl that does not let in any light can be hazardous to the integrity of the display case. For some exterior windows and of course interior windows, this type of vinyl can be applied. This allows you to look for a higher quality in the visuals. This option can be interesting if you want to hide what is inside a storage room.
---
Our recent perforated vinyl projects
Window display of the dealership Mitsubishi de Terrebonne with perforated vinyl. Your can see that it was cut to the form of the car.
---
How to start your project?
After reading this article, you have a good idea of ​​the options available. Contact us and our experts can discuss with you in order to build your project according to your needs and your budget.