As a large format printer, printing on Coroplast is part of our daily life. For years, the general public has referred to this material by the trademark name "Coroplast". This one is actually a corrugated plastic made of polypropylene.
The advantages of corrugated plastic sheets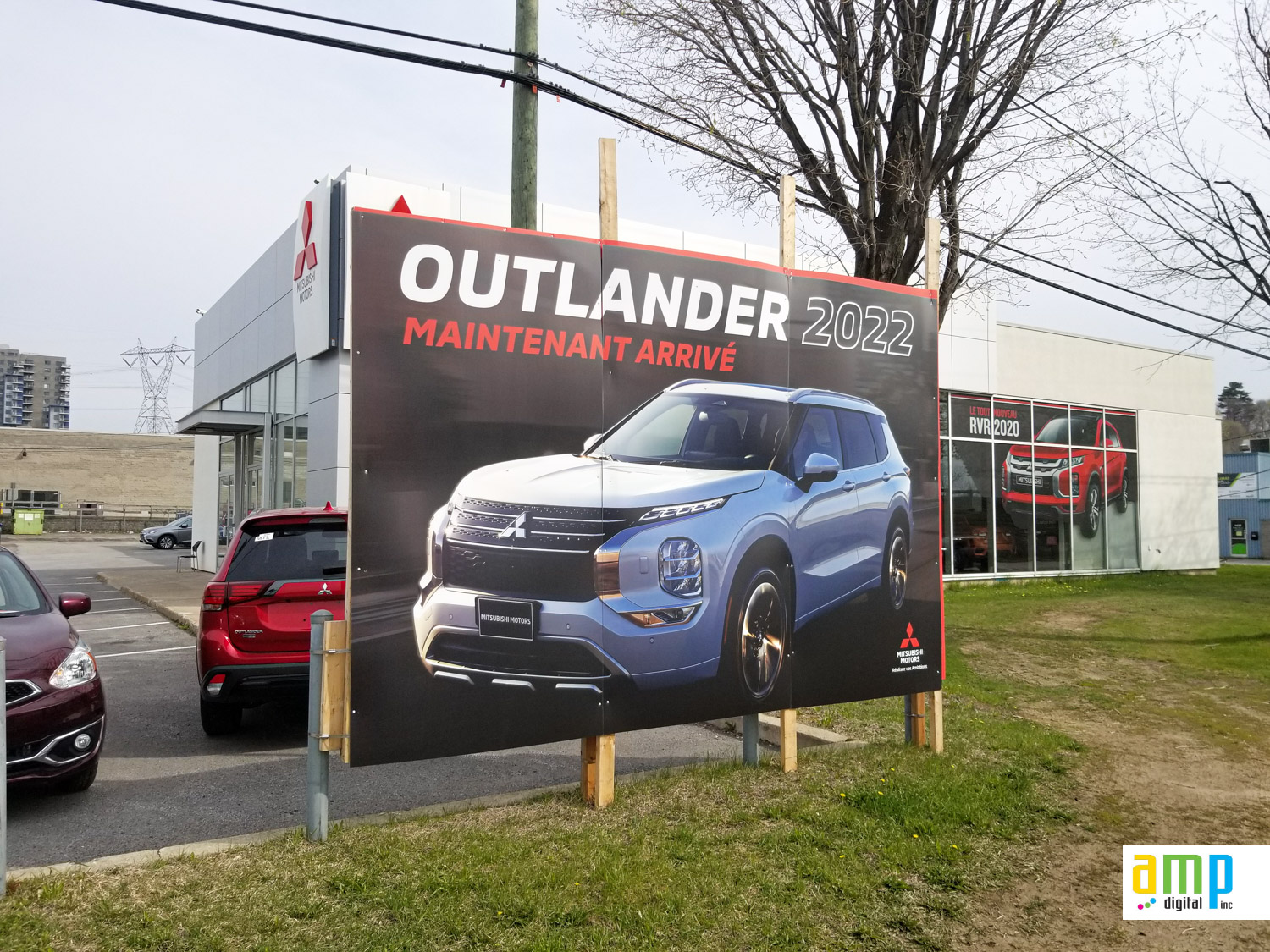 There are several advantages to using this material for your display.
First, it is very economical when using standard colors and formats. (Ex: White Coroplast 4mm 48 X 96)
Secondly, this material is very light so it can be used in many situations.
Thirdly, the Coroplast range for printing does not require any treatment before being printed which makes the process quick and inexpensive.
Technical specifications of Coroplast
Corrugated plastic is available in several sizes and colors. Note that some configurations are not available or only by special order. Depending on your needs, our team can suggest the best options.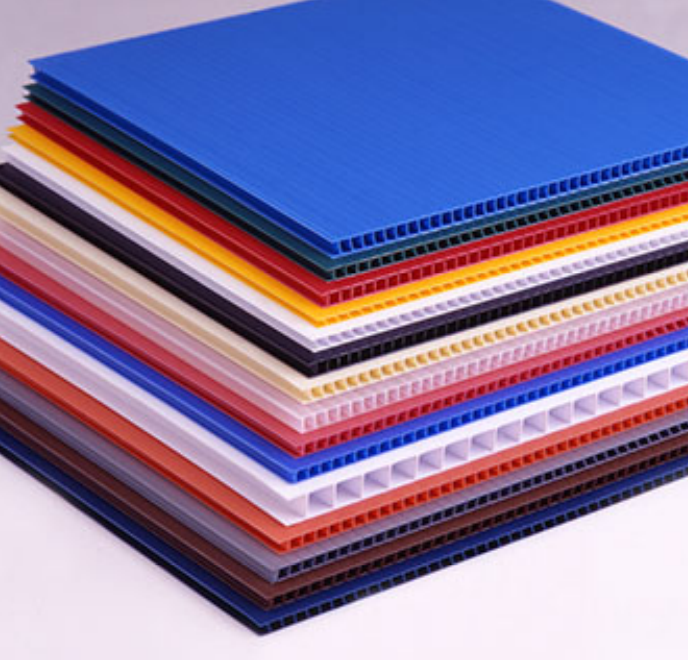 Different thicknesses of Coroplast
2 mm (0.079")
3 mm (0.118")
4 mm (0.157")
5 mm (0.197")
6 mm (0.236")
8 mm (0.315")
10 mm (0.394")
13 mm (0.511")
16 mm (0.63")
19 mm (0.748")
25 mm (0.984")
Sizes available from Coroplast
Coroplast panels normally come in 48 X 96 inch panels. It is possible to make special orders for 60 X 120 inch panels.
Depending on your needs, we can then cut the panels to the size and shape requested.
Color chart available for Coroplast
White (more affordable and the most widely used on the market)
Black
Light blue
Dark Blue (Navy)
Natural (translucent so light passes through the panel)
Silver
Ivory
Orange
Green
Red
Yellow
Brown
Application and use of Coroplast
This polypropylene-based material is popular for several reasons including its resistance to weather, UV rays as well as many oils and other harmful products. Our customers use it for:
Interior signage
Marketing and promotional display
Temporary signage outside
Trail signage in outdoor centers
Site signage
Car dealership
Exhibition booth
Electoral display
Display and promotion for real estate project
Event display
How do you cut Coroplast
We have several cutting options for this type of material in our workshops in Montreal. For standard size cutting, we use a guillotine. If you want special shapes in your cut, such as the shape of a car or a person, we will use 3D cutting using our CNC machine.
If you want to cut your panel yourself, you could use a knife or even a good pair of scissors.
How to install a corrugated plastic panel
Depending on what you want to use the panel for, there are several ways to install it.
Outdoor use
Eyelet attachments
One of the best known ways is to use ti-wraps to tie everything after a pole. This is for temporary use.
If you are able to hang strings to hang your poster, this can be an easy and quick installation method to do. In this case, eyelets are installed at the 4 corners.
Here is what is most often found as a finishing option with eyelets on a Coroplast poster.
Screws or nails
If you plan to install Coroplast on a panel, you could screw or nail it. See the image below for this kind of installation.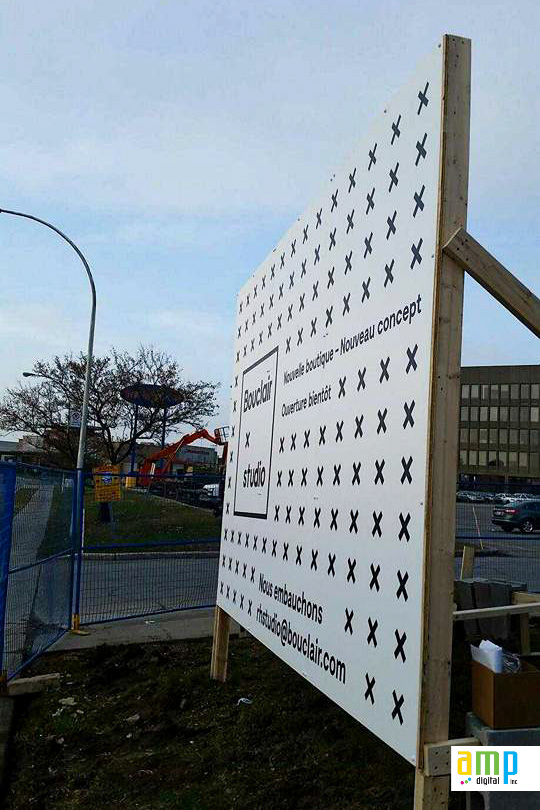 H-structure
For temporary use (ex: promotion day or election day, you can use a metal H structure that you will tuck into the flutes of the panel. (This can blow out in older times)
Indoor use
When you attach corrugated plastic panels to the interior, you no longer need to be wary of the wind. Less extreme methods can therefore be used to attach them.
Eyelets (also called Grommets)
An option that gives a bit of a look is to use eyelets with which you can use rope to hang everything up.
Velcro or double-sided tape
Velcro can also be a good option. This can become an interesting option for business work tools. Eg: the menu of the day in a restaurant. With this solution, you can interchange the display as you see fit. With double-sided tape, you will achieve the same installation but it will not be possible to remove the Coroplast sign.
Chevalet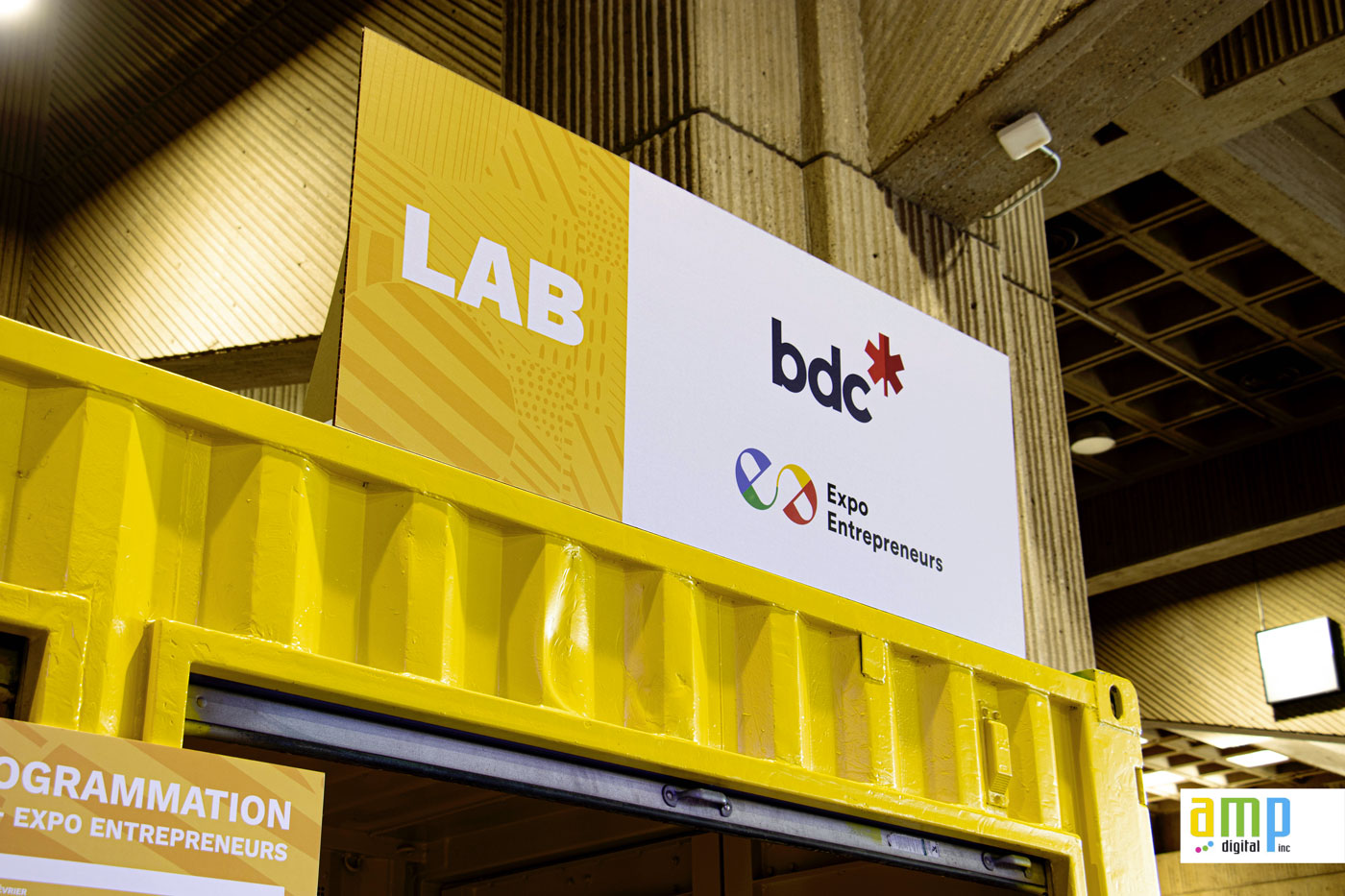 An easel sticking behind the panel gives a nice "look" to the display. This principle is frequently used at corporate events.
Printing method possible on Coroplast panels
Digital printing on Coroplast
An affordable method of printing is digital printing. Production costs are low so even if you don't have a large order, it will still be affordable.
Screen printing
For orders with a lot of repetition of the same visual, we can go for silkscreen printing. The starting costs are high but the unit price is then lower which allows you to catch up on large orders.
How to extend the life expectancy of printing on corrugated plastic?
As with many other materials such as vinyl, we can apply a laminate to the panels. This will also allow you to look for a different finish to differentiate yourself from the competition.
We can laminate your panels with a matte or glossy finish. Also, a dry-erase laminate can allow you to use your sign as a board. For example in business to display a schedule or a list of tasks.
Tips for saving money in your projects with printed Coroplast
Sheets normally come in 48 X 96 format. With printing and cutting, we have to leave a bleed. Logically, the more items we can produce per sheet, the better your price will be.
Ex.: if your poster has a final format of 20 X 40, we can fit 4 per sheet. If you go with a 25 X 40 format, only 3 items can be produced per sheet, which will increase the price due to the loss of material.
See our projects with Coroplast
Start your display project with Corrugated Plastic today!
Frequently Asked Questions (FAQ)
How to cut coroplast yourself at home?
You can use a knife with a blade and cut in the direction of the fluttes as much as possible.
How to bend Coroplast or corrugated plastic?
The Coroplast is built of flutes which gives it its solidity. You can therefore fold the panel parallel to its flutes quite easily by using a ruler to make a nice fold. You can also cut the outer wall of the panel to allow the material to bend and keep this shape. By heating the inner part, the material will keep its shape more easily.