Thanks to our large format UV printers, printing on cardboard is precise and fast on a variety of materials. There are many different cardboards, whether it is the structure, the thickness, the color or even the origin of the material. This material is an easy to use and perfect solution for prototyping.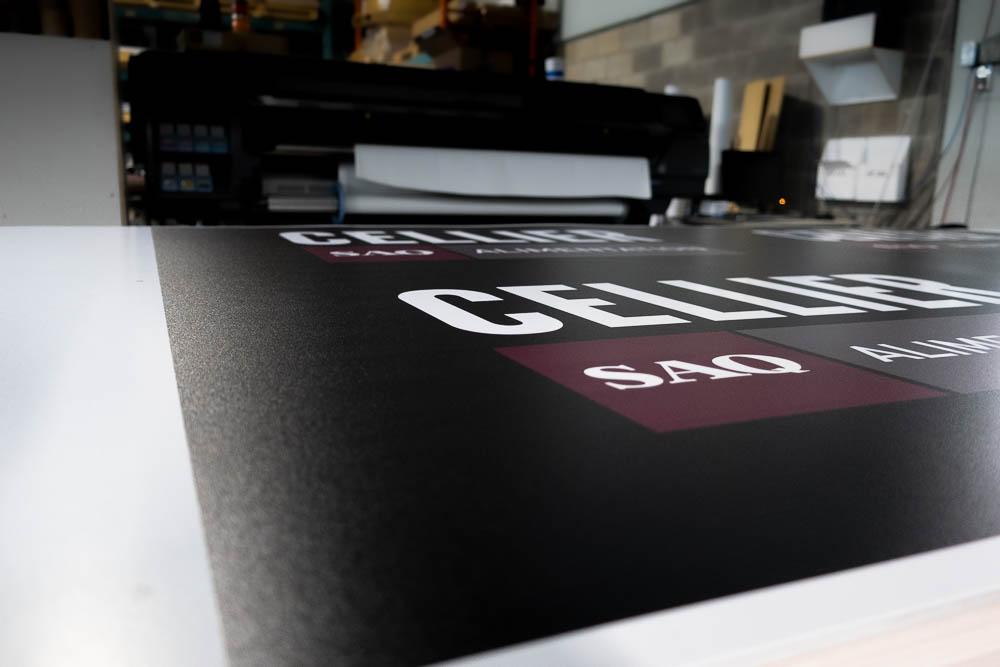 Printing method
Our UV printers allow you to print large areas quickly. Depending on the processes you decide to add to the print, the speed can vary a lot! For example, for boxes where you simply want to have a low quality logo, you can use a fast printing mode which will lower the printing cost. If you are printing posters on high-end cardboard for in-store display, you will of course want the print to be of high quality. The printer will therefore take longer to make this print.
Cardboard types
Depending on what you want to do with your cardboard, our experts can suggest the right cardboard for you. Here are more details about the different types: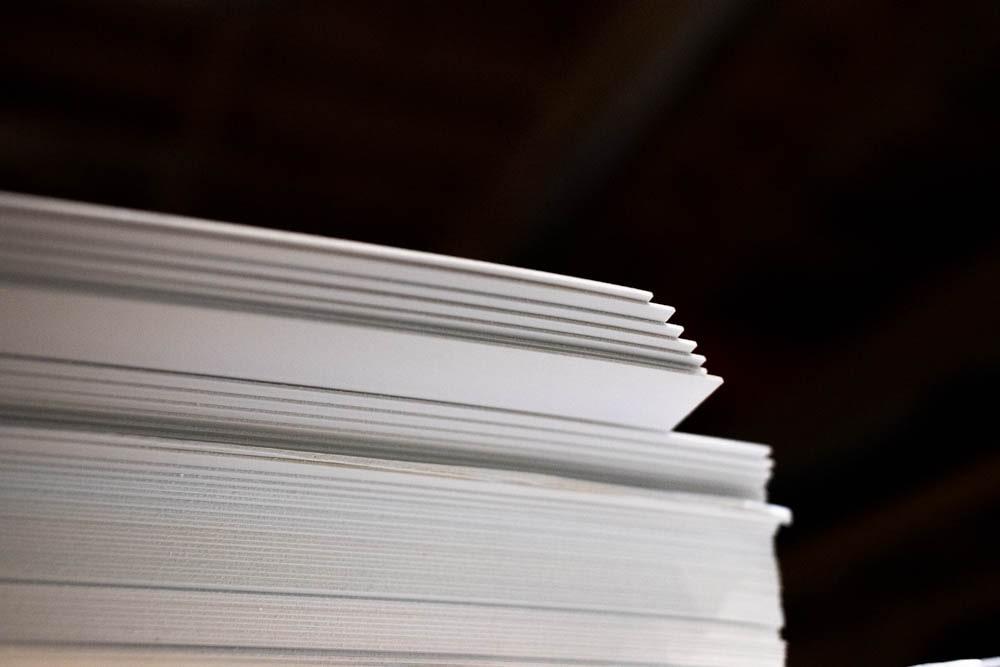 Carton plein
Since they have no structure, solid cartons are often used for small-scale displays. For example labels, small in-store posters. You can also make small boxes with this material.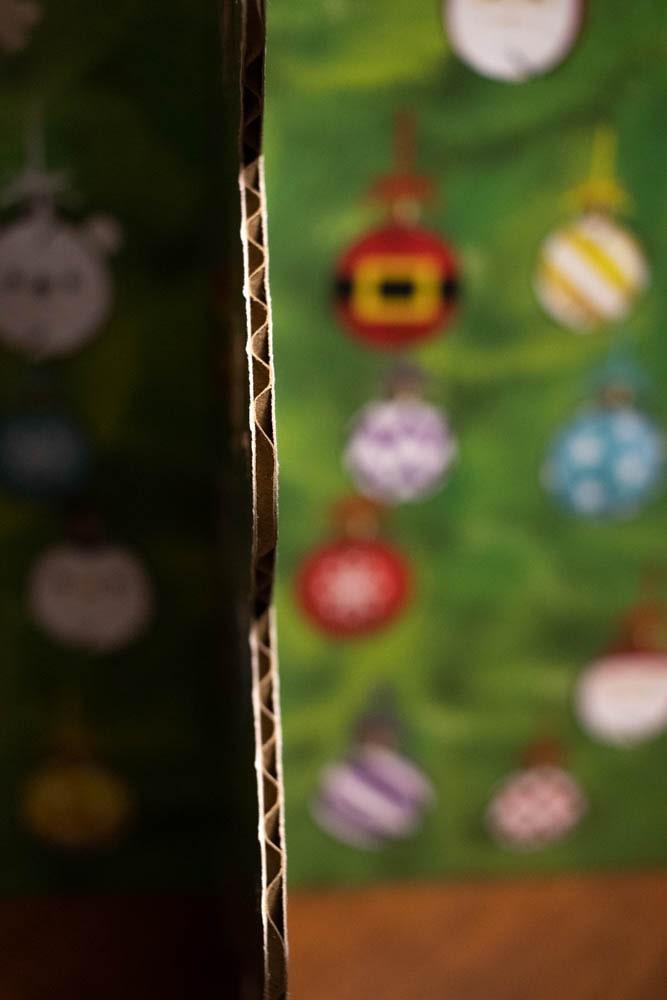 Corrugated cardboard
Corrugated board is often used to make packaging boxes or advertising displays. This material consists of a layer in the center that undulates between the two outer layers. This structure gives body to the cardboard but also a thickness that protects the contents of a box, for example.
Falcon Board
Although similar to corrugated cardboard, honeycomb cardboard is an interesting alternative for display. The structure inside makes this material solid and prevents it from bending too easily.
Printing on recycled cardboard
We have more and more of our customers who prefer recycled cardboard. Since the use of cardboard is frequently for temporary use, we avoid cutting trees by using a material made from recycled materials.
Cardboard thicknesses
Solid cardboard is available in several very thin thicknesses such as 0.012 inch (or 0.3mm)
For its part, corrugated cardboard normally has an average thickness of 0.0625 (i.e. 1/16th of an inch or 1.5875mm)
Cardboard colors
Of course, the cardboard basically comes in a brown color. To print it, however, white sheets can be used on the outside. This will allow us to have a better fidelity in our colors.
Cardboard quality
Like any type of material, there are several types of cardboard. In the world of printing, the Carton Kemi is the high end and the Oyster is the low end.
Cardboard cutting
Once your visuals have been printed, our cutting team can carry out several processes for your finished product. Our CNCs can cut, make folds and even stippling.
For small to medium quantities, or for prototyping, our CNC cutouts are often the best solution.
For boxes, different cuts may be needed. Digital cutting (CNC) uses several tools to perform these different steps. For example, for the exterior cut, we want to cut completely (Die cut).
For creases in a box, a tool called a crease wheel will weaken the material in specific areas so that the box closes as desired.
Then, an oscillating blade will allow us to cut in dotted areas to facilitate the opening by the client.
In large quantity orders, die cutting technology will be used, which allows faster cutting. This has a high starting cost to create the matrices. However, once in production, the pace is hellish! The final result will sometimes have small defects such as leftover materials.
What is the life expectancy of a print on cardboard
Cardboard can last a very long time if used in the right conditions. Just like paper, cardboard has poor resistance to water and humidity. The print will often remain in good condition but it is the structure of the cardboard that will weaken.
In the long term, the impression on the folds of a box may fade as the fiber of the cardboard deteriorates.
For long-term use, there are clear films that can be added over the print. These can be glossy or matte which can add flair to the final product. However, for long term use, other materials such as Coroplast, Foam Core or even Sintra are often suggested.
How to save on your printed cardboard orders?
Volume saving
As is often the case in the world in general but even more so in the world of printing, we can save on volume. By grouping your orders into one, we can amortize the starting costs on more items. By ordering a larger quantity, you will save on shipping costs that you would have by making several shipments.
Hardware optimization
Using our tools and our team of experts, we can develop your project in such a way as to maximize the use of equipment while reducing losses. Before finalizing your file creation, contact us for help in maximizing the number of items per sheet. The standard format of cardboard sheets is 48 X 96, however we can also have other formats to maximize your projects.
Why invest in printing your shipping boxes?
You just have to put yourself in the shoes of your customers to understand the positive emotion that a new customer will have when they receive your beautiful printed box.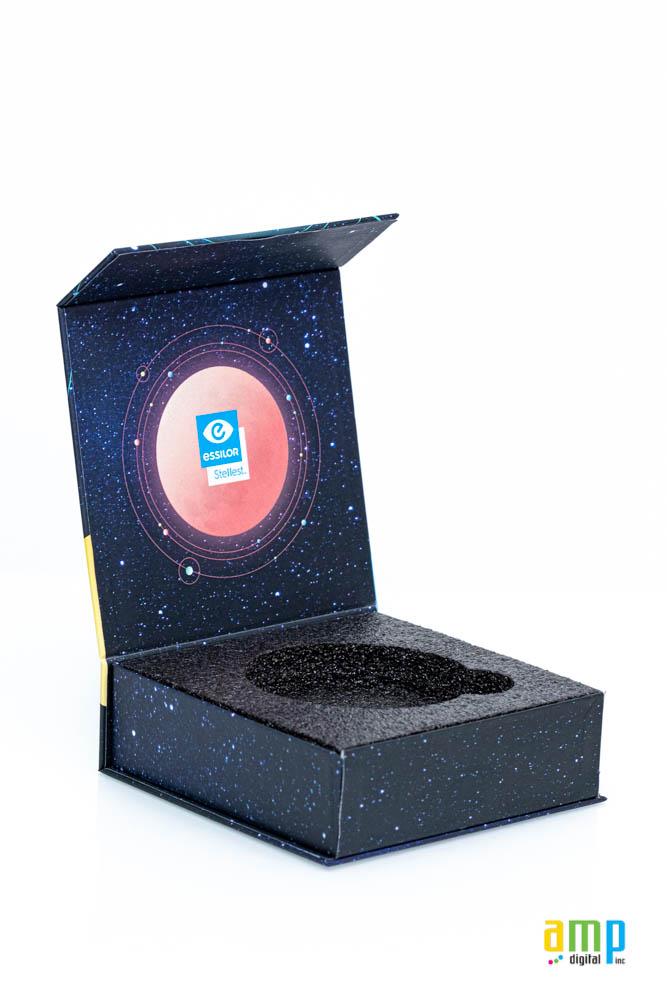 Depending on what you are selling, your product will be seen by many during shipment to a customer. Take advantage of this visual space to catch the eye of the different people who will see your product.
Why is it important to use custom boxes for your products?
First of all, a box just big enough for your product to fit in will allow you to maximize space in your warehouses.
Then, if the box is too small, your product will not be well protected in it. If it is too large, the product may move and break. You will then have to add protections and structure inside to stabilize everything. This adds costs and weight which will also cost you more to ship.
Start your custom box project today!